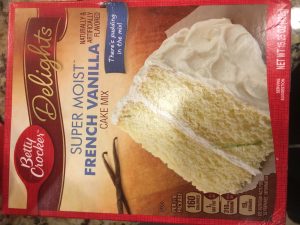 When I realized my husband (because of his peanut allergy) had never had the pleasure of enjoying peanut butter cookies, a personal favorite childhood treat of mine, I decided my new mission would be for him to experience what a peanut butter cookie tastes like, that is without the peanuts.  So I ran to our Walmart looking for some almond butter that I could substitute in a recipe.
Well Walmart didn't have any almond butter but they did have…
Cookie Butter….
Goodness if you've never had the pleasure of eating this, run…don't walk…run to your local grocery store and get some. Now. It tastes like, I don't know, like Christmas and the candy house from Hansel and Gretel combined. Honestly, I could probably write an essay on how good cookie butter but umm where was I, oh yes…I had the cookie butter in my hands and I was like…well I could probably just go to Trader Joes and get some almond butter instead…but cookie butter…I mean my husband has never had peanut butter cookies, he won't really know what they taste like anyways!
So I bought it.  And nothing else. I got too distracted thinking about how delicious it was and headed home.
Ok, so you have to understand one thing about me.  I don't like following guidelines or rule books or recipes or anything like that.  Even when I get furniture from IKEA I have this, I don't know, this disease where I refuse to look at the instructions because I just want to figure it out myself.
That being said, I decided to look in our kitchen to see what we had to make some cookies.
I found…
-Eggs. Yay! One left to put in the recipe…
-One box of Betty Crockers Super Moist French Vanilla Cake Mix, apparently there's pudding in this mix.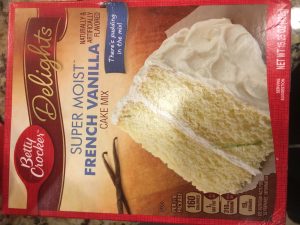 I can't figure out how to rotate pictures on this site yet so I'm sorry for the sideways picture
-No butter. Ugh, why did I not get some at Walmart?   But hey, we have some oil, kind of the same thing right?
-Maple Syrup.  Mmmmm. I love maple syrup.
-No regular sugar but some brown sugar.  Ok! Why not?
– A can of holiday frosting – about to expire, why not use that too…no one will notice it's holiday frosting if I don't put the green sprinkles on it…
-a tiny bit of chocolate chips…hmm they're bittersweet but that's ok, we will still try to use them
-oh gosh, no mixing bowl, it's dirty and I'm too lazy to wash it…but we do have a big pot, that will work too right?
Now with all the materials in hand I went forward with the recipe.
I decided to track how much of everything I put in, just in case these cookies turned out to be amazing. Thank goodness I did because they truly were amazing…
SO here's the recipe now
Pour the vanilla cake mix into a mixing bowl (or in my case a big pan)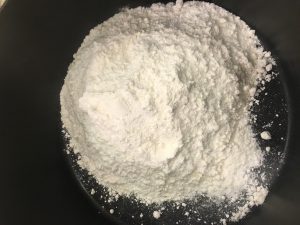 Add two tablespoons of water, because hey this powder isn't going to mix itself!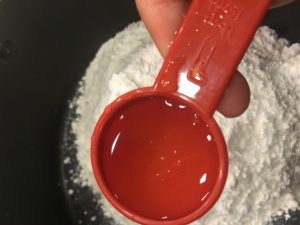 Add an egg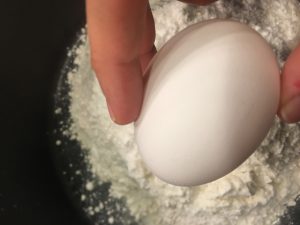 Add 1/8 cup of maple syrup
(ok about this…when I was a vegan and I made cookies I used maple syrup all the time to substitute for eggs, however I like it so much I usually try to always pour a little bit into whatever baked goods I make now)
Add 1/2 cup brown sugar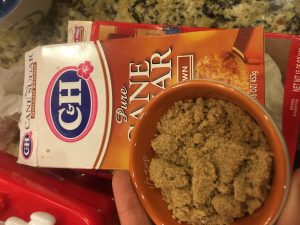 Add 1/2 cup oil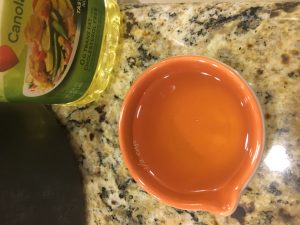 This is the point where it came time to add the cookie butter.  Previous peanut butter cookie experiences told me I should probably just put a half cup into the recipe.  But I mean, a half cup of cookie butter, are you kidding me?! Put the WHOLE JAR IN!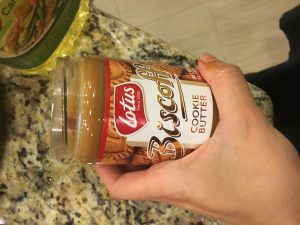 So I did…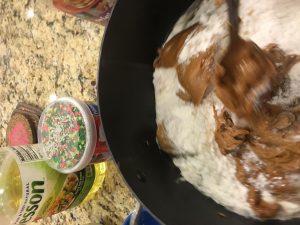 And then you mix it all around until it looks like dough.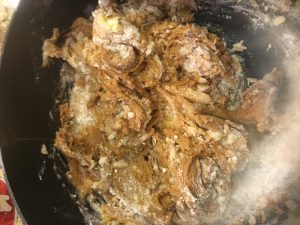 Make sure to really mix it well because you will get these white streaks in it from the white cake mix and those will bake and make your cookies look like they have weird spots on them if you don't blend your dough some more until it's all one color.
Now you take an ice cream scoop (because really, who likes eating small cookies..this way you don't feel guilty about eating just one) and scoop the dough onto a slightly greased pan.  You may need to use two pans depending on the size you have.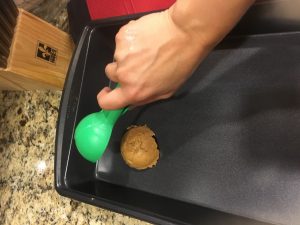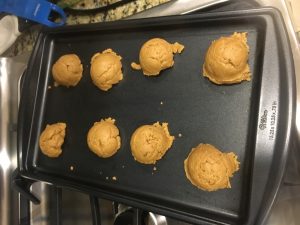 Oh yeah by this time you probably should have preheated your oven to 350 degrees.  Now that it's at 350, put the cookies in and bake for ten minutes.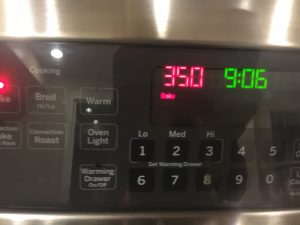 Take them out…
This is what they should look like:
Then, right away press one chocolate chip into the center of the cookie (because hey, a little surprise of chocolate in a cookie is always fun) This part is also really satisfying for some reason.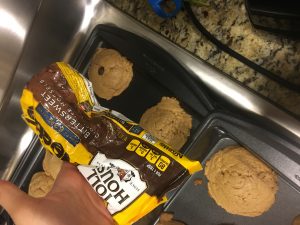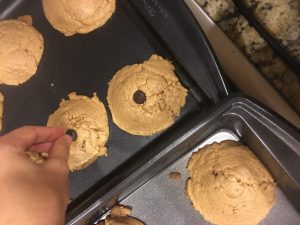 Wait for them to cool and then spread some frosting on them.  If it's red frosting you can make it look like a rose and pretend you had planned to make rose cookies the whole time, like I did.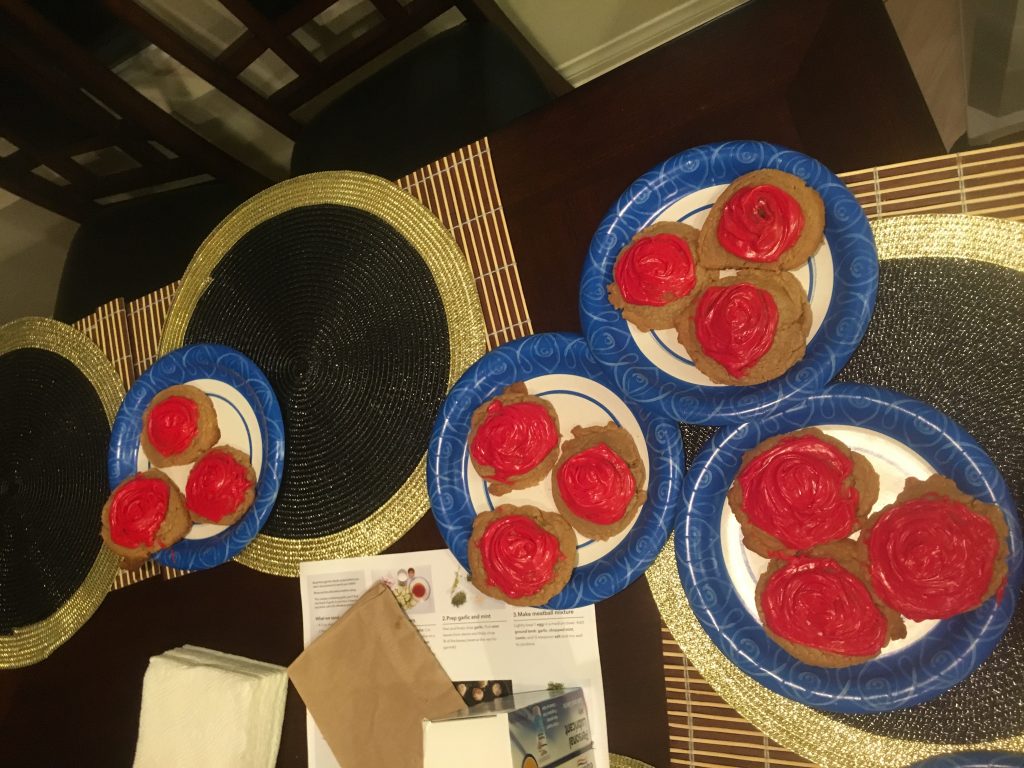 Then you eat and enjoy and tell everyone you made the best sugar cookies ever!
When my husband took his first bite he said they tasted like a Mrs. Fields sugar cookie.  I was pretty happy about that compliment so I decided to not to tell him I had tried to make him the equivalent of peanut-less peanut butter cookies.
Maybe that's a recipe for another day!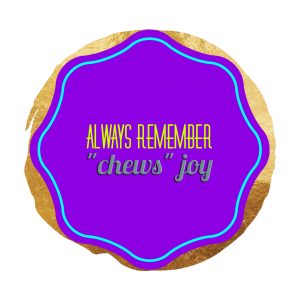 Mandy
Save
Save
Save
Save
Save
Save
Save